Rescue! Brand Traps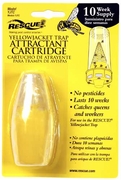 Please Note: The 10 Week Yellow Jacket Attractant will not longer be available. No French labeling so the government will not allow them into Canada. We have purchased all stock available from the Canadian Distributor but supplies are VERY limited. Once they are gone we have no choice but to sell the 2 Week YJ Attractant.
Rescue! 10 Week Attractant Refill for Yellow Jacket Trap. The exclusive RESCUE!® Attractant replicates the sex pheromone of the yellowjackets to draw them inside the trap.

Use one in early spring to catch the Queen Yellow Jacket. Every Queen Yellow Jacket you catch in early spring is one less nest and hundreds less worker yellow jackets later in the season.
Replace the 10 Week Attractant mid-summer to carry you through the rest of the season. What could be easier?
See instruction video to the left.