2019 Fund Raising Calendar
Purchase a 2019 Fundraising Calendar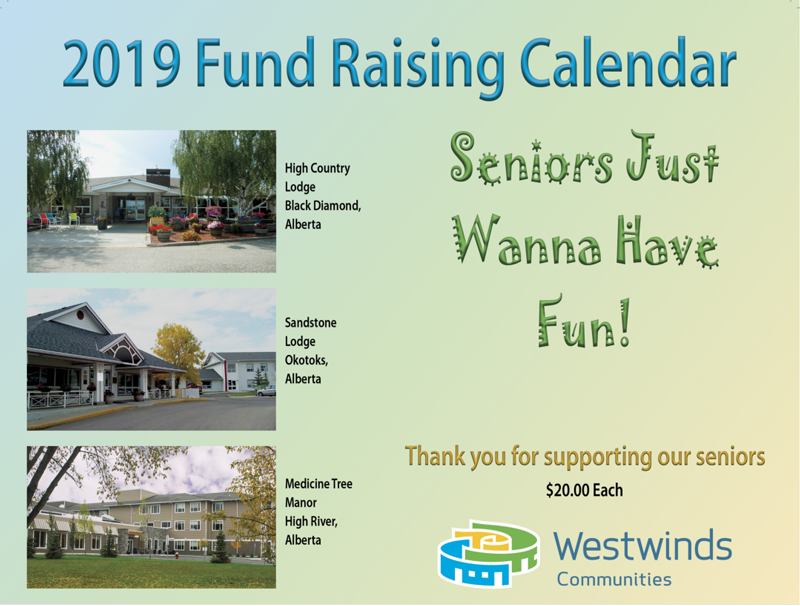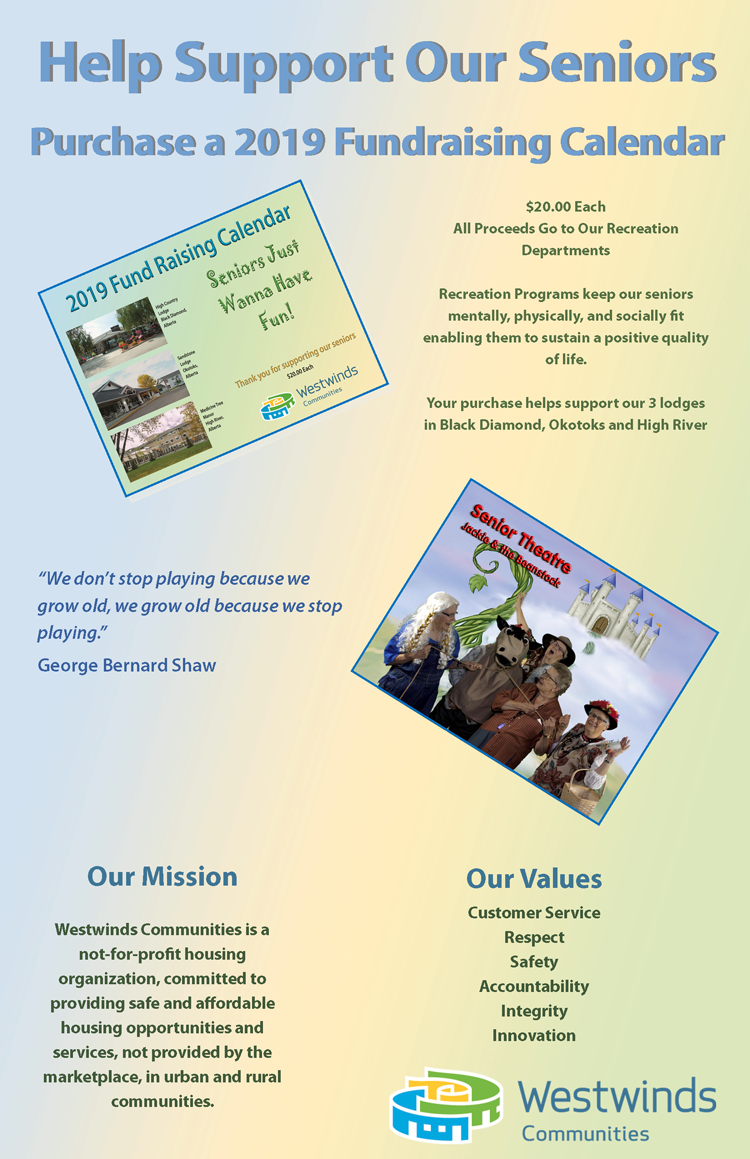 Westwinds Communities, formerly Foothills Foundation, provides Senior Supportive Living.
We provide a supportive home-like atmosphere where volunteers and community partners work together to provide activities, resources, and interaction with the community. Westwinds Communities partners with Provincial and Municipal governments to provide housing accommodation to 196 senior households in the following locations:
Medicine Tree Manor, High River – Opened December 2017
High Country Lodge, Black Diamond
Sandstone Lodge, Okotoks
The Recreation Department relies on Volunteers and Fund Raising to provide the necessary activities to keep our seniors active. The 2019 Fund Raising Calendar is the 2018/2019 primary fundraiser for these lodges.
Residents from all 3 senior lodges participated in the creation of the calendar. The theme is based on famous TV shows and movies, such as Grumpy Old Men, The Adams Family and On Golden Pond, to name a few. Medicine Tree Manor included photos from their Senior Theatre Production such as Little Red Ridinghood and Jackie and the Beanstock.
Your calendar purchase will help fund:
Recreational Games and Activities
Live Entertainers
Music and Drama Programs
Educational Speakers

Professional Services such as Exercise and Fitness Programs

Day Trips outside the lodge
and so much more!!
The link below will add 1 calendar to the shopping cart. When viewing the cart you can change the quantity and click 'Recalculate' to update the total cost.
The Cost is $20 per Calendar. 100% goes to the Recreation Department.

For orders under $70 there is a flat $6.95 shipping fee.

Click here to add a calendar to your shopping cart
Please note: NiftyStuff Distribution is only providing the facility to allow you to order the 2019 Westwinds Fundraising Calendar online. Orders will be forwarded to Westwinds Communities for fulfillment of the order. Orders will be sent via Canada Post.
NiftyStuff Distribution is very pleased to support the fundraising efforts of the Westwind Communities. We do not receive any proceeds from the sale of the calendars.